MSN Names: Funny MSN Names - The MSN Names Database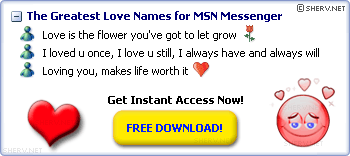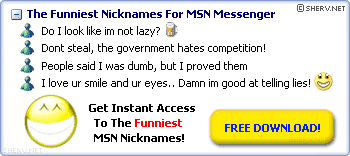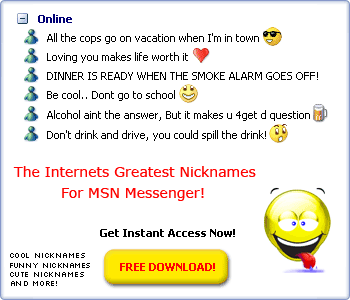 Funny MSN Names
This is the definitive MSN Messenger Names category to get the best funny MSN Names, funny screen names, funny nicknames & nicks and funny display names for MSN Messenger!
People often use Funny MSN Names to spread humour through their MSN names, and of course they also put a smile on the faces of your MSN Messenger contacts! We have an extensive collection of Funny names for MSN Messenger that you can use in your nickname. You will find the funny msn name collection below, enjoy!
Yet even more Funny MSN Nicks!
Funny nicks for MSN
God hates you, live with it.
Got Beef?!? Yeah start cookin!
Oh! So thats why your looking, trying to steal my looks are ya!
Money can't buy happiness, but it can buy shoes!
U look good from far, but when u get closer, ur far from good!
You can also use these nicks in the new Windows Live Messenger!


Previous Page of Funny MSN Names
Next Page of Funny MSN Names
Jump to page:
1
2
3
4
5
6
7
8
9
10
11
12
13
14
15
16
17
18
19
20
21
22
23
24
25
26
Popular Name Categories:
All MSN Names Categories
Do NOT copy the Funny MSN Quotes and Funny MSN Names.



Copyright 2001-2006 MessengerTools.NET MSN Messenger Names.
| | |
| --- | --- |
| | More stuff |
| | |
| --- | --- |
| | Survey |
What is your favorite Messenger version?


| | |
| --- | --- |
| | Cool Sites |
| | |
| --- | --- |
| | More Sites |