MSN Names: Funny MSN Screen Names - funny screen names for Messenger!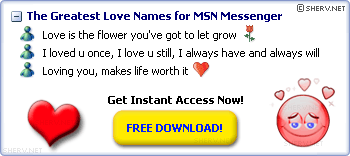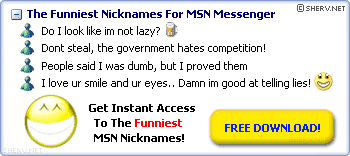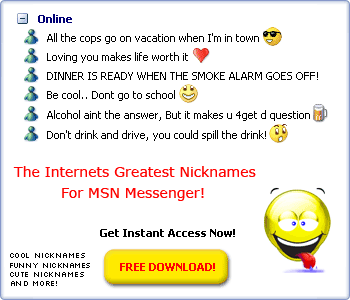 Funny MSN Names
This is the definitive MSN Messenger Names category to get the best funny MSN Names, funny screen names, funny nicknames & nicks and funny display names for MSN Messenger!
People often use Funny MSN Names to spread humour through their MSN names, and of course they also put a smile on the faces of your MSN Messenger contacts! We have an extensive collection of Funny names for MSN Messenger that you can use in your nickname. You will find the funny msn name collection below, enjoy!
Funny Screen Names
Yet more extremely funny screen names for MSN Messenger! Enjoy these names and also be sure to send us your own funny screen names!
My cat just knocked over a candle, which set fire to my dog. He, in turn, ran into my curtains and now they're ablaze too. Damn it!
If you want to be a party animal, you have to learn to live in the jungle.
Evil Gummi bears are chasing me, one is red, one is blue, and that purple one took my shoe!
Click HERE to see how to fool an idiot!
Your life is like a treadmill - you're running, but getting nowhere!
Sometimes I think I'm so romantic I could marry myself!
If you're reading this, you owe me $10.
More Funny MSN Screen Names
Need more Funny MSN Screen Names? Then check out this page of Funny Screen Names for MSN! More funny screen name pages for MSN and Live Messenger coming soon!


Previous Page of Funny MSN Names
Next Page of Funny MSN Names
Jump to page:
1
2
3
4
5
6
7
8
9
10
11
12
13
14
15
16
17
18
19
20
21
22
23
24
25
26
Popular Name Categories:
All MSN Names Categories
Do NOT copy the Funny MSN Names and Funny MSN Screen Names.



Copyright 2001-2006 MessengerTools.NET MSN Messenger Names.
| | |
| --- | --- |
| | More stuff |
| | |
| --- | --- |
| | Survey |
What is your favorite Messenger version?


| | |
| --- | --- |
| | Cool Sites |
| | |
| --- | --- |
| | More Sites |