MSN Names: Wisedom MSN Names - The MSN Names Database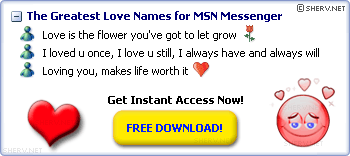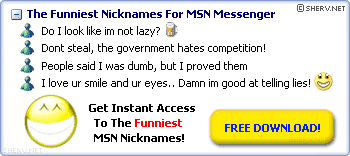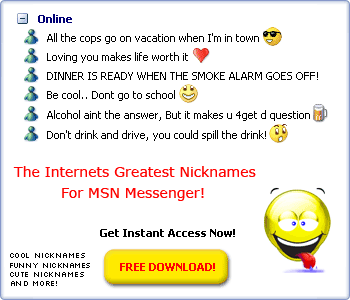 Wisedom MSN Quotes
Here we have lots of wise and knowledgable sayings, MSN Names, MSN Nicks, Nicknames and MSN Quotes for you to use to spice up your MSN Messenger Name. If you have a wisedom related quote, submit it to us and we will add it to our MSN Names.
Wisedom MSN Quotes
There are still lessons the student can learn.
Age has its privileges.
Evil that strong cannot be so easily overcome.
Happiness can only be found within.
The good you do for others, will return to you in abundance.

Next Page of Wisedom MSN Names
Jump to page:
1
2
3
4
Popular Name Categories:
All MSN Names Categories
Do NOT copy the MSN Names and MSN Quotes.



Copyright 2001-2006 MessengerTools.NET MSN Messenger Names.
| | |
| --- | --- |
| | More stuff |
| | |
| --- | --- |
| | Survey |
What is your favorite Messenger version?


| | |
| --- | --- |
| | Cool Sites |
| | |
| --- | --- |
| | More Sites |