MSN Names: Heartbroken MSN Names - The MSN Names Database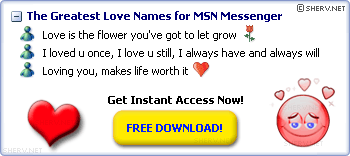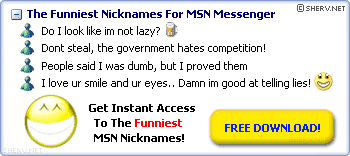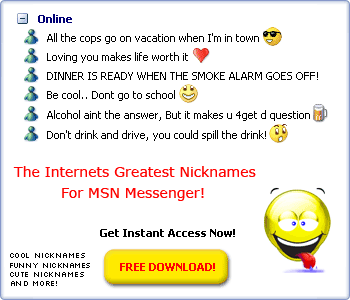 Heartbroken MSN Names
Heartbroken MSN Names for those of you who hve had their hearts broken, or are going through a break up! We'll be adding more heartbroken MSN Screen Names very soon, and be sure to send us your nick names as well.
Heartbroken MSN Names
It was never love that broke her heart it was losing that love that tore her apart.
Don't Lead Me On, And Leave Me Confused, any Girl Would Rather Be Left Alone, Than Have Her heart abused.
Where can I go to get away from the pain of loving you?
True love? I used to believe it existed, but when you've had your heart torn out and thrown on the floor, you just don't care anymore.
If you lost your love for me, you never let it show.
You said you didn't need me in your life. I guess you were right.

Next Page of Heartbroken MSN Names
Jump to page:
1
2
3
Popular Name Categories:
All MSN Names Categories
Do NOT copy the MSN Names and MSN Nicknames.



Copyright 2001-2006 MessengerTools.NET MSN Messenger Names.
| | |
| --- | --- |
| | More stuff |
| | |
| --- | --- |
| | Survey |
What is your favorite Messenger version?


| | |
| --- | --- |
| | Cool Sites |
| | |
| --- | --- |
| | More Sites |