MSN Names: Funny MSN Quotes - The funniest MSN quotes and Nicknames for Messenger!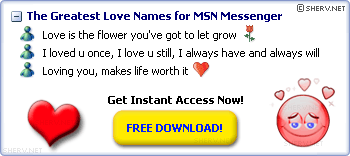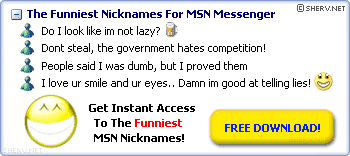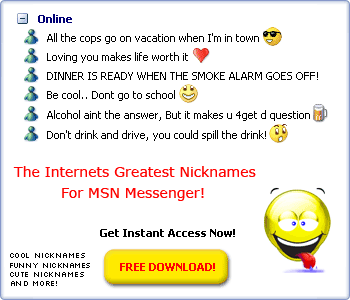 Funny MSN Names
This is the definitive MSN Messenger Names category to get the best funny MSN Names, funny screen names, funny nicknames & nicks and funny display names for MSN Messenger!
People often use Funny MSN Names to spread humour through their MSN names, and of course they also put a smile on the faces of your MSN Messenger contacts! We have an extensive collection of Funny names for MSN Messenger that you can use in your nickname. You will find the funny msn name collection below, enjoy!
Funny MSN Quotes
More of our popular Funny MSN Quotes, Names and sayings!
Funny Quotes for MSN
Smart, funny, cute, yep thats me! Err... maybe not smart, but its not my fault I don't like homework!
If the world didn't have cows, how would we get milk?
If there wasn't any bad people in the world, how would we have enemies?
Reading this wastes five seconds of your precious life.
If electricity comes from electrons the does morality come from morons?
If guns kill people then can I blame misspelled words on my pencil?
Call me anytime, I won't be home
My Imaginary friend thinks my big toe is crazy!
Life is like chocolate... you can't live without it :D
You can get more funny MSN Quotes from this funny quotes page!


Previous Page of Funny MSN Names
Next Page of Funny MSN Names
Jump to page:
1
2
3
4
5
6
7
8
9
10
11
12
13
14
15
16
17
18
19
20
21
22
23
24
25
26
Popular Name Categories:
All MSN Names Categories
Do NOT copy the Funny MSN Screen Names and Funny MSN Nicknames.



Copyright 2001-2006 MessengerTools.NET MSN Messenger Names.
| | |
| --- | --- |
| | More stuff |
| | |
| --- | --- |
| | Survey |
What is your favorite Messenger version?


| | |
| --- | --- |
| | Cool Sites |
| | |
| --- | --- |
| | More Sites |