MSN Names: Funny MSN Names - The MSN Names Database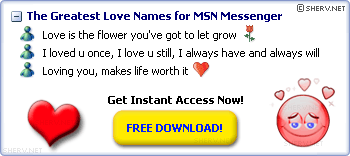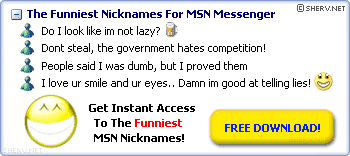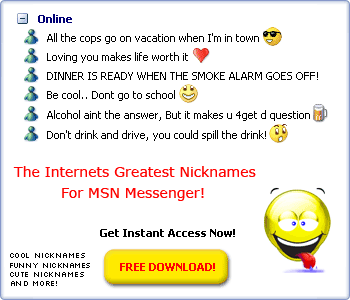 Funny MSN Names
This is the definitive MSN Messenger Names category to get the best funny MSN Names, funny screen names, funny nicknames & nicks and funny display names for MSN Messenger!
People often use Funny MSN Names to spread humour through their MSN names, and of course they also put a smile on the faces of your MSN Messenger contacts! We have an extensive collection of Funny names for MSN Messenger that you can use in your nickname. You will find the funny msn name collection below, enjoy!
Funny MSN Nicks
Get all your funny MSN nicks right here! Loads of Funny MSN Nick Names
I dream of a day where chickens can cross the road without their motives questioned.
Friends are 4 life, not just for christmas!
People like u are the reason I'm on medication.
Security through obscurity is never really all that secure.
Life without me, how boring would that be?!
More Funny Nicks for MSN
Find more Funny MSN Nick Names on the next page by using the navigation below.


Previous Page of Funny MSN Names
Next Page of Funny MSN Names
Jump to page:
1
2
3
4
5
6
7
8
9
10
11
12
13
14
15
16
17
18
19
20
21
22
23
24
25
26
Popular Name Categories:
All MSN Names Categories
Do NOT copy the Funny MSN Nicknames and Funny MSN Screen Names.



Copyright 2001-2006 MessengerTools.NET MSN Messenger Names.
| | |
| --- | --- |
| | More stuff |
| | |
| --- | --- |
| | Survey |
What is your favorite Messenger version?


| | |
| --- | --- |
| | Cool Sites |
| | |
| --- | --- |
| | More Sites |