MSN Names: Love MSN Names - The MSN Names Database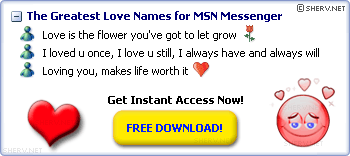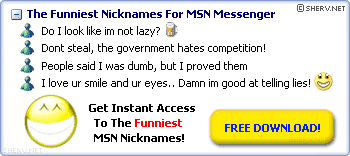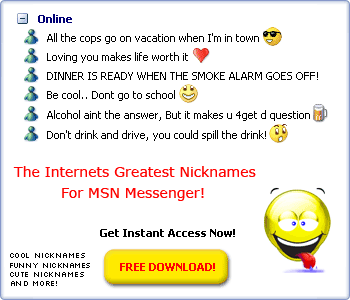 Love MSN Names
Whether you're in love or heart broken, our Love MSN names collection is sure to have a name for you to use to express your feelings! Just go through the lovely names below until you find a name that you like and use it in MSN! We have loads of lovable names so start looking for a love msn name below.
The pages in this category have all your Love MSN Names, Love MSN Nicknames, as well as love MSN screen names, display names, and love quotes for MSN Messenger and Windows Live Messenger!
Sad Love MSN Names
Are you heart broken or sad because of something related to love? Use our collection of Sad Love MSN Names to express yourself and your feeling in you MSN Messenger Name.
Sad MSN Love Nick Names
Ever has it been that love knows not its own depth until the hour of separation.
The saddest thing in the world, is loving someone who used to love you.
How could an Angel break my heart? Why didn't he catch my falling star? I wish I didn't wish so hard. Maybe I wished our love apart.
Some of us think holding on makes us strong; but sometimes it is letting go.
It's better to have loved and lost, than to have never loved at all.
If you love something, set it free; if it comes backs it's yours, if it doesn't, it never was.
More Sad MSN Names
You can get more sad MSN Messenger Names from the Depressing MSN Names page and another page of Sad MSN Names.


Previous Page of Love MSN Names
Next Page of Love MSN Names
Jump to page:
1
2
3
4
5
6
7
8
9
10
11
12
13
14
15
16
17
Popular Name Categories:
All MSN Names Categories
Do NOT copy the MSN Quotes and MSN Names.



Copyright 2001-2006 MessengerTools.NET MSN Messenger Names.
| | |
| --- | --- |
| | More stuff |
| | |
| --- | --- |
| | Survey |
What is your favorite Messenger version?


| | |
| --- | --- |
| | Cool Sites |
| | |
| --- | --- |
| | More Sites |