MSN Names: Love MSN Names - The MSN Names Database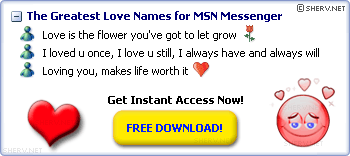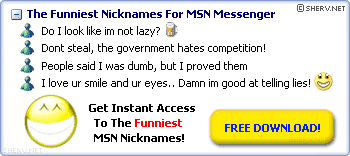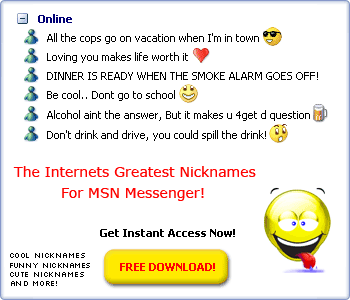 Love MSN Names
Whether you're in love or heart broken, our Love MSN names collection is sure to have a name for you to use to express your feelings! Just go through the lovely names below until you find a name that you like and use it in MSN! We have loads of lovable names so start looking for a love msn name below.
The pages in this category have all your Love MSN Names, Love MSN Nicknames, as well as love MSN screen names, display names, and love quotes for MSN Messenger and Windows Live Messenger!
Love MSN Screen Names
More MSN Love Screen Names!
Love Screen Names
I need love that stretches across the world, from sea to shining sea
If you really love me like you say, why dont I believe you?
(L)Love is like wind... u can feel it but u cant hear it! (L)
Love is like a flower, let it grow!
Girls Are Like Fireworks, Their Kisses Light Up The Night, Their Hugs Make Everything Bright!


Previous Page of Love MSN Names
Next Page of Love MSN Names
Jump to page:
1
2
3
4
5
6
7
8
9
10
11
12
13
14
15
16
17
Popular Name Categories:
All MSN Names Categories
Do NOT copy the MSN Names and MSN Nicknames.



Copyright 2001-2006 MessengerTools.NET MSN Messenger Names.
| | |
| --- | --- |
| | More stuff |
| | |
| --- | --- |
| | Survey |
What is your favorite Messenger version?


| | |
| --- | --- |
| | Cool Sites |
| | |
| --- | --- |
| | More Sites |