MSN Names: Love MSN Names - The MSN Names Database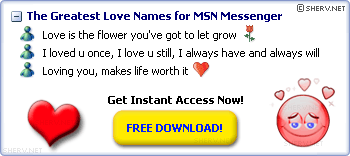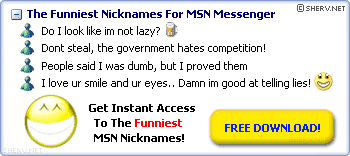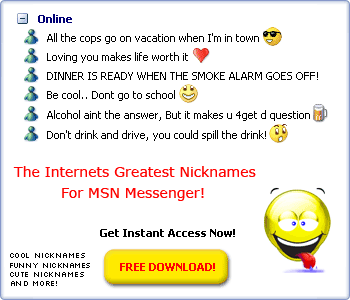 Love MSN Names
Whether you're in love or heart broken, our Love MSN names collection is sure to have a name for you to use to express your feelings! Just go through the lovely names below until you find a name that you like and use it in MSN! We have loads of lovable names so start looking for a love msn name below.
The pages in this category have all your Love MSN Names, Love MSN Nicknames, as well as love MSN screen names, display names, and love quotes for MSN Messenger and Windows Live Messenger!
Love Names for MSN Messenger
If loving you is wrong, I don't wanna be right
Stupid cupid... stop pickin on me!
Some girls/boys have 7 boys/girls for 7 days but I have one for always
Roses are red, violets are blue, sugar is sweet and so are you!
Love is like war..:: Easy To Start.. Difficult To End..And.. Impossible To Forget..!!
Love Is More Than Just A Kiss
Be smart,be clever put me in your heart for ever
Love is like heaven but it can hurt like hell
I Close My Eyes And Kiss Your Lips, Then I Go To Paradise
Love is a Feeling that Lasts Forever..
You can fall in the water, you can fall off a tree but the best way to fall is to fall in love with me
Roses are red diaments are plastic, I am great, you are fantastic!
Don't love me for fun, love me for a reason .. let the reason be love
You can win me, you can lose me but try 2 never use me
Love is the answer, but while you're waiting for the answer, sex raises some pretty good questions
Do you believe in love at first sight or should I walk by again?
Love is a slow poison
Honesty is the key to a relationship. If you can fake that, you're in
Accountants are the best lovers. They can do it all night long and keep their balance!
True Love is like ghosts, Everyone talks about, But very few have seen


Previous Page of Love MSN Names
Next Page of Love MSN Names
Jump to page:
1
2
3
4
5
6
7
8
9
10
11
12
13
14
15
16
17
Popular Name Categories:
All MSN Names Categories
Do NOT copy the MSN Quotes and MSN Names.



Copyright 2001-2006 MessengerTools.NET MSN Messenger Names.
| | |
| --- | --- |
| | More stuff |
| | |
| --- | --- |
| | Survey |
What is your favorite Messenger version?


| | |
| --- | --- |
| | Cool Sites |
| | |
| --- | --- |
| | More Sites |