MSN Names: Cute Nicknames for MSN - Lots of cute MSN Names and Nicknames!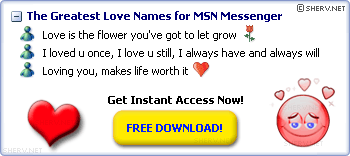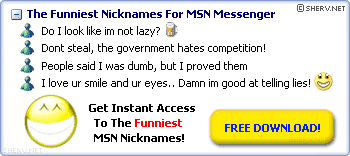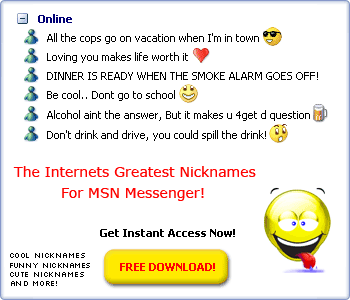 Cute MSN Names
Here you will find lots of Cute MSN Names for use in MSN Messenger. Some of the cutest and sweetest names for MSN are placed here in this category. Browse through the Cute MSN Names below.
Category has all of the Cute screen names, cute MSN Nicknames and cute MSN Quotes you could need for MSN Messenger and more!
Cute MSN Nicknames
More Cute MSN Nicknames on this page by popular demand! Enjoy the cute nicknames for MSN!
Who needs chocolate? I'm sweet enough :)
Friends are like stars they come and go, but the ones that stay are the ones that glow.
hey every1 guess what, I found... I found a star... (l)
If friends were flowers, I would pick you
:P didn't ask to be a princess, but hey if the crown fits!!!*:P
You knock me off my feet!
Because of you, I have learnt what I am.
There is no space for tears :'( in my world!!
Don't Hesitate In Life, Do What You Think Is Worth It, Do What You Think Is Right...(F)
Are you looking for Cute MSN Avatars and Cute MSN Display pictures? Just check out the MSN Display Pics page for lots of cute display pics!

Previous Page of Cute MSN Names
Jump to page:
1
2
3
4
5
Popular Name Categories:
All MSN Names Categories
Do NOT copy the MSN Nicknames and MSN Names.



Copyright 2001-2006 MessengerTools.NET MSN Messenger Names.
| | |
| --- | --- |
| | More stuff |
| | |
| --- | --- |
| | Survey |
What is your favorite Messenger version?


| | |
| --- | --- |
| | Cool Sites |
| | |
| --- | --- |
| | More Sites |