MSN Names: Cute MSN Names - The MSN Names Database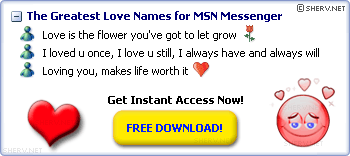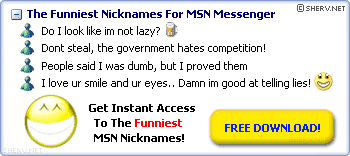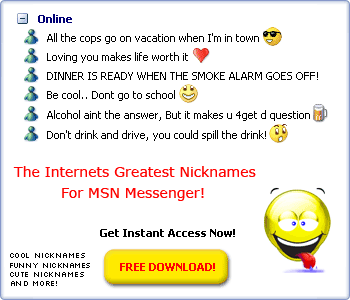 Cute MSN Names
Here you will find lots of Cute MSN Names for use in MSN Messenger. Some of the cutest and sweetest names for MSN are placed here in this category. Browse through the Cute MSN Names below.
Category has all of the Cute screen names, cute MSN Nicknames and cute MSN Quotes you could need for MSN Messenger and more!
Cute Love MSN Names
Here we have Cute MSN Names about Love! Check back for more Cute love MSN quotes shortly.
We may fight, and we may cry, but my love for you will never die
Distance echos of "I LOVE YOU" lead me slowly to you.
Love comes and goes but friends stay forever!
If kisses were the water I would give you the sea, If hugs were the leaves I would give you a tree, But if love was time, I would give you eternity.
When I saw u, I was afraid 2 talk 2 u, when I talked 2 u, I was afraid 2 hold u, when I held u I was afraid 2 love u, now I love u and I'm afraid 2 lose u!
More Cute Love Names for MSN
If you live to be a hundred, I want to live to be a hundred minus one day, so I never have to live without you.
Some ppl are obsessed with fashion, a simple bag or shoe, I dont care what I'm wearing as long as I'm with u!
I wanna know if you feel the way I do, wanna know if theres a chance for me and you!
Sitting here waiting for that dawn of day. The spark between us, the first love to finally flare.
(L)(k)if u love me(L)(k)then I love u(L)(k)it ain't my fault I'm beta than u(H)
You can get more cute MSN Names from here or the next page of MSN screen names.


Previous Page of Cute MSN Names
Next Page of Cute MSN Names
Jump to page:
1
2
3
4
5
Popular Name Categories:
All MSN Names Categories
Do NOT copy the MSN Names and MSN Quotes.



Copyright 2001-2006 MessengerTools.NET MSN Messenger Names.
| | |
| --- | --- |
| | More stuff |
| | |
| --- | --- |
| | Survey |
What is your favorite Messenger version?


| | |
| --- | --- |
| | Cool Sites |
| | |
| --- | --- |
| | More Sites |