MSN Names: Cute MSN Quotes - lots of cute screen names and quotes for MSN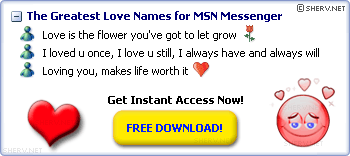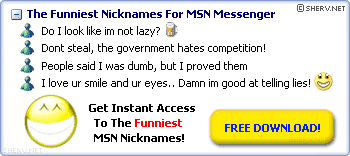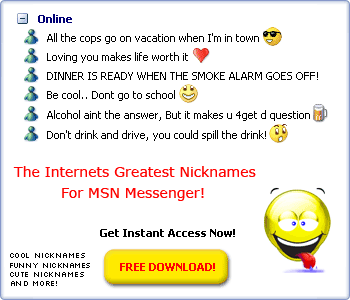 Cute MSN Names
Here you will find lots of Cute MSN Names for use in MSN Messenger. Some of the cutest and sweetest names for MSN are placed here in this category. Browse through the Cute MSN Names below.
Category has all of the Cute screen names, cute MSN Nicknames and cute MSN Quotes you could need for MSN Messenger and more!
Cute Names for MSN Messenger
Here are more cute MSN Quotes:
Love is like a quicksand, the deeper you fall in, the harder it is to get out!
Love is like a baseball game 3 strikes and you're... OUT!
a million words wud not bring u bak i kno coz iv tried - but neither wud a million tears...I know coz I've cried
God made the land, God made the sea, he needed a princess and so he made me!
When tears flow in your eyes... Always remember two things: I'm here and I care
A ring is round and never ends, that is how long we will be friends
Many more cute MSN screen names on the other pages of cute names.


Previous Page of Cute MSN Names
Next Page of Cute MSN Names
Jump to page:
1
2
3
4
5
Popular Name Categories:
All MSN Names Categories
Do NOT copy the MSN Names and MSN Quotes.



Copyright 2001-2006 MessengerTools.NET MSN Messenger Names.
| | |
| --- | --- |
| | More stuff |
| | |
| --- | --- |
| | Survey |
What is your favorite Messenger version?


| | |
| --- | --- |
| | Cool Sites |
| | |
| --- | --- |
| | More Sites |