MSN Names: Cute MSN Names - The MSN Names Database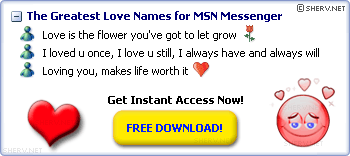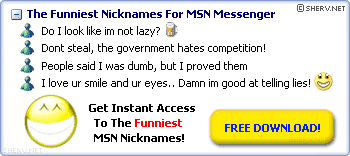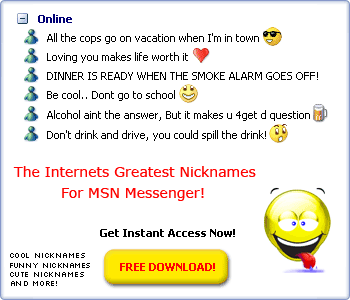 Cute MSN Names
Here you will find lots of Cute MSN Names for use in MSN Messenger. Some of the cutest and sweetest names for MSN are placed here in this category. Browse through the Cute MSN Names below.
Category has all of the Cute screen names, cute MSN Nicknames and cute MSN Quotes you could need for MSN Messenger and more!
Cute Names for MSN Messenger
I love you more then yeterday, and less then tomorrow
Love comes and goes but friends stay forever!
A memory lasts forever, never does it die. True friends stay together and never say goodbye!
Friends Never say goodbye, they say hello!!
I'd like a diamond, I'd like some gold, I'd like a pearl, Because I'm daddy's little girl :)


Previous Page of Cute MSN Names
Next Page of Cute MSN Names
Jump to page:
1
2
3
4
5
Popular Name Categories:
All MSN Names Categories
Do NOT copy the MSN Names and MSN Nicknames.



Copyright 2001-2006 MessengerTools.NET MSN Messenger Names.
| | |
| --- | --- |
| | More stuff |
| | |
| --- | --- |
| | Survey |
What is your favorite Messenger version?


| | |
| --- | --- |
| | Cool Sites |
| | |
| --- | --- |
| | More Sites |