MSN Names: Sweet MSN Names - The MSN Names Database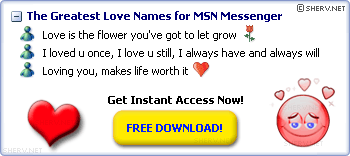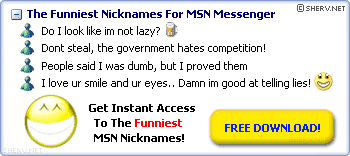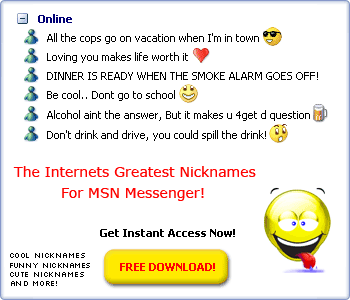 Sweet MSN Names
Welcome to the Sweet MSN Names category. The sweet names for MSN Messenger have been listed below, to use them, simply copy them and paste as your MSN nickname.
Sweet Names for MSN Messenger
You can fall in the water, you can fall off a tree but the best way to fall is to fall in love with me
Roses are red diaments are plastic, I am great, you are fantastic!
Don't love me for fun, love me for a reason .. let the reason be love
You can win me ,you can lose me but try 2 never use me
Love is the answer, but while you're waiting for the answer, sex raises some pretty good questions


Previous Page of Sweet MSN Names
Next Page of Sweet MSN Names
Jump to page:
1
2
3
4
Popular Name Categories:
All MSN Names Categories
Do NOT copy the MSN Names and MSN Quotes.



Copyright 2001-2006 MessengerTools.NET MSN Messenger Names.
| | |
| --- | --- |
| | More stuff |
| | |
| --- | --- |
| | Survey |
What is your favorite Messenger version?


| | |
| --- | --- |
| | Cool Sites |
| | |
| --- | --- |
| | More Sites |