MSN Names: Sweet MSN Names - The MSN Names Database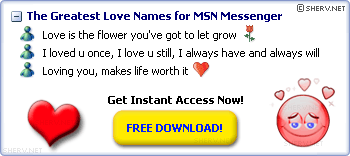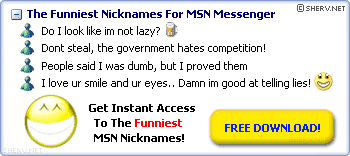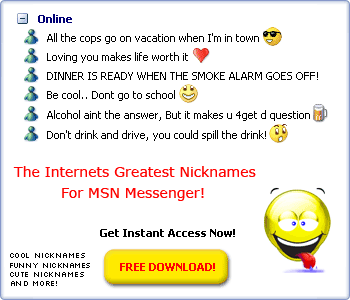 Sweet MSN Names
Welcome to the Sweet MSN Names category. The sweet names for MSN Messenger have been listed below, to use them, simply copy them and paste as your MSN nickname.
Sweet Names for MSN Messenger
Love Is More Than Just A Kiss
Be smart,be clever put me in your heart for ever
Love is like heaven but it can hurt like hell
I Close My Eyes And Kiss Your Lips, Then I Go To Paradise
Love is a Feeling that Lasts Forever..


Previous Page of Sweet MSN Names
Next Page of Sweet MSN Names
Jump to page:
1
2
3
4
Popular Name Categories:
All MSN Names Categories
Do NOT copy the MSN Nicknames and MSN Names.



Copyright 2001-2006 MessengerTools.NET MSN Messenger Names.
| | |
| --- | --- |
| | More stuff |
| | |
| --- | --- |
| | Survey |
What is your favorite Messenger version?


| | |
| --- | --- |
| | Cool Sites |
| | |
| --- | --- |
| | More Sites |