MSN Names: Girly MSN Names, Nicknames and cute Girly MSN Nick Names!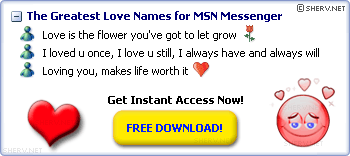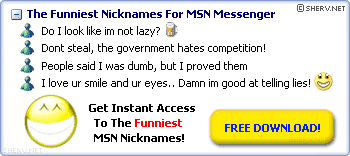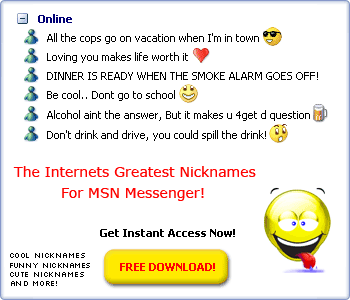 Girls MSN Names
The names in the Girls MSN Names category are strictly for use by girls! They have been made specially for use by girls, so boys stay out and girls proceed to get the names below! If you have some cool and sweet MSN Messenger names for girls, you can submit them to our site and we will add them to the Girls MSN Names section.
Girly MSN Names
Lots of awesome
girly names
!
I won't mess with your head or play with your heart, Because I'm a real girl and I finish what I start.
You shouldn't be anyone specail to me, Your just another guy. you shouldn't lead me on exspcially if it's a lie, one day it's love the next day it's done, you hurt me to much to be the one
At night i pray that soon your face will fade away!
I'm not perfect, niether is he but together we just may be!
(*) Im a supergirl and Im here to save the world (*)
Tired of trying, Sick of crying, yeah i'm smiling but inside I'm dying!
Someone asked if I knew you, it was sad cause all I could say was " I used to"
Please don't think I'm crazy, I don't want you to understand. My mind is going hazy, to hell with your helping hand... Why don't you just leave me alone, this conflict is my own!
Looking for Girly MSN Display Picture and MSN Icon? Just go to the MSN Display Pics page!


Previous Page of Girls MSN Names
Next Page of Girls MSN Names
Jump to page:
1
2
3
4
5
6
7
8
Popular Name Categories:
All MSN Names Categories
Do NOT copy the MSN Names and MSN Quotes.



Copyright 2001-2006 MessengerTools.NET MSN Messenger Names.
| | |
| --- | --- |
| | More stuff |
| | |
| --- | --- |
| | Survey |
What is your favorite Messenger version?


| | |
| --- | --- |
| | Cool Sites |
| | |
| --- | --- |
| | More Sites |