MSN Names: Girls MSN Names - The MSN Names Database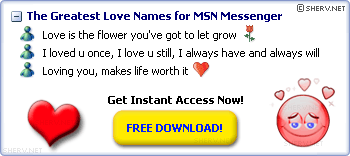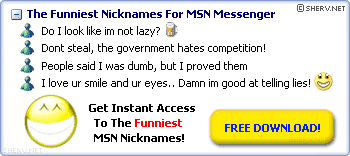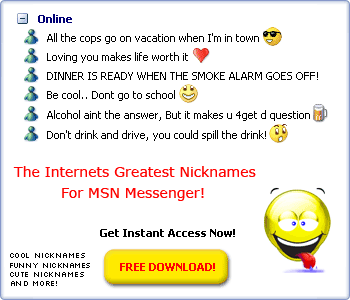 Girls MSN Names
The names in the Girls MSN Names category are strictly for use by girls! They have been made specially for use by girls, so boys stay out and girls proceed to get the names below! If you have some cool and sweet MSN Messenger names for girls, you can submit them to our site and we will add them to the Girls MSN Names section.
Girls Names for MSN Messenger
:P Didn't ask to be a princess, but hey if the crown fits! :P
Don't be afraid to be yourself, the people who matter don't care; the people that care don't matter
I'd like a diamond, I'd like some gold, I'd like a pearl, Because I'm daddy's little girl :)
ur looks, ur smile, ur kiss, ur style everythin bout u boy drives me wild
You know I love you, You know I care, Whenever you need me I will be there!
If Love Is A Crime I Would Be In Jail Forever


Previous Page of Girls MSN Names
Next Page of Girls MSN Names
Jump to page:
1
2
3
4
5
6
7
8
Popular Name Categories:
All MSN Names Categories
Do NOT copy the MSN Nicknames and MSN Quotes.



Copyright 2001-2006 MessengerTools.NET MSN Messenger Names.
| | |
| --- | --- |
| | More stuff |
| | |
| --- | --- |
| | Survey |
What is your favorite Messenger version?


| | |
| --- | --- |
| | Cool Sites |
| | |
| --- | --- |
| | More Sites |