MSN Names: Depressing MSN Names - The MSN Names Database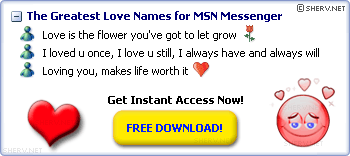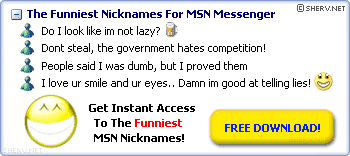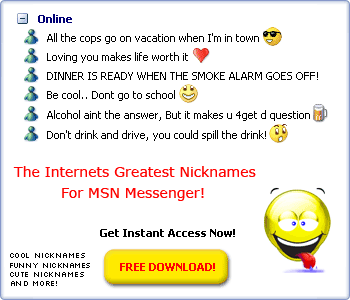 Depressing MSN Names
You can use Depressing MSN Names to express yourself when you feel down and depressed, or maybe your not depressed at all, and just want to depress your MSN Messenger contacts! Get the Depressing names for MSN Messenger below.
Depressing Names for MSN Messenger
A single death is a tragedy; a million deaths is a statistic.
We cease loving ourselves if no one loves us.
Don't step on a daisy while looking for a rose.
I try to laugh about it, cover it all up with lies. I try to laugh about it, hiding the tears in my eyes.
This is real, I'm afraid; this time there is no hiding...


Previous Page of Depressing MSN Names
Next Page of Depressing MSN Names
Jump to page:
1
2
3
4
5
6
Popular Name Categories:
All MSN Names Categories
Do NOT copy the MSN Nicknames and MSN Names.



Copyright 2001-2006 MessengerTools.NET MSN Messenger Names.
| | |
| --- | --- |
| | More stuff |
| | |
| --- | --- |
| | Survey |
What is your favorite Messenger version?


| | |
| --- | --- |
| | Cool Sites |
| | |
| --- | --- |
| | More Sites |