MSN launches new service aimed at mobile users including MSN Messenger


Friday, December 02, 2005 (18:27:48)

Posted by admin


MSN has launched a new service aimed at providing its services to mobile users.
The Pocket MSN service allows users to have access to services such as Hotmail, MSN Messenger and MSN.com directly via a mobile phone or PDA. The official Microsoft website states: "Pocket MSN offers easy access to MSN Hotmail and Messenger, along with quick access to popular MSN content."
The MSN Messenger features are listed as: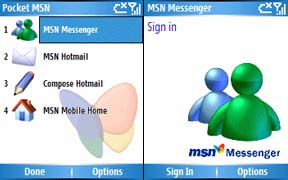 Remain available when it's not convenient to talk, like on a subway, in a restaurant or during a meeting
Send e-mail to offline Messenger contacts with one simple tap and update your free/busy/away status
Your contacts will see you as online and mobile, so they will know to expect slower, abbreviated responses
For more information and to download Pocket MSN for your mobile device, just visit http://mobile.msn.com/ac.aspx?cid=pmsn_market.